This is just a little blog update to say that we are working on the final touches for the next release of Apache Camel which is version 2.14.
We have a
discussion thread
on the Apache Camel mailing list where you can provide feedback and follow the process.
There is a lot of great stuff in this release which I frankly need to blog about when I get a chance and spirt to write.
After getting some bug fixes into the Camel codebase today I plan to work on finishing the
codehale metrics
UI in
hawtio
. This allows Camel end users to easily add additional metrics about their route performances, using the metrics from codehale. We then use a metrics javascript ui, which we then integrate in hawtio, which makes it possible to render live charting which is shown in a screenshot below: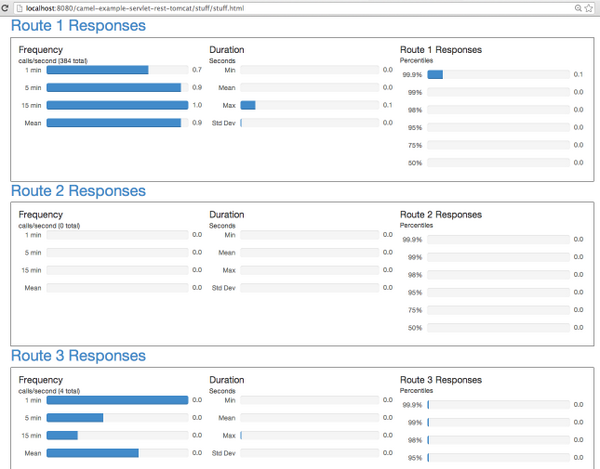 Camel routes using codehale metrics statistics, rendered in real time
Another great new functionality in Camel 2.14, is the new
DSL for rest service
s, though that warrants a blog entry by itself. And we also integrated with
Swagger
, so these REST services can provide an API out of the box.
The Apache Camel 2.14 release is expected out in September 2014. We will try to see if we are ready next week to start cutting the release.
If you have anything you want included or fixed then its time now to speak up.