This week I attended my first (but not my last) ApacheCon in Sevilla Spain. The event is co-hosted with Apache Big Data that runs monday and Tuesday and then ApacheCon from Wednesday till friday. I had the opportunity to travel to Sevilla on monday, and therefore had Tuesday as full day for sight seeing and attending a few talks at Apache Big Data.
Fellow Camel rider Jean Baptiste co-presented Apache Beam which seems like a really interesting project. It provides an unified API and DSL on top of various big data implementations such as Apache Flink, Hadoop, Storm, and what else is out there. I talked to Jean about a potential integration between Beam and Camel. It would open up the number of systems that Beam could ingest data from using the many Camel components.
In the hallway I meet
Krzysztof Sobkowiak
from the Apache ServiceMix project, so we took the opportunity to take a selfie. Kudos to Krzysztof for getting involved with ServiceMix so this project can get some releases out the door from time to time.
In the afternoon I went for sightseeing and I must say Seville is a beautiful city with parks, historical buildings, big cathedral and a bull fighter arena. All within walking distance in the city center.
The
Plaza de Espana
is particular impressive (see link on wikipedia for more impressive photos). Supposedly some footage of Star Wars and Game of Thromes was filmed there.
A friend of mine had be in Sevilla before and he told me about the many citrus trees in the streets, which was not so hard to find.
Citrus trees in the streets of Sevilla
On thursday I kicked off a series of Apache Camel talk. My talk was an introiuctinary talk as there is still many people who are not aware of Apache Camel - even at ApacheCon. However my first thought was that everybody knew Camel and people wanted to sleep in, as 10 minutes before my talk the room was empty.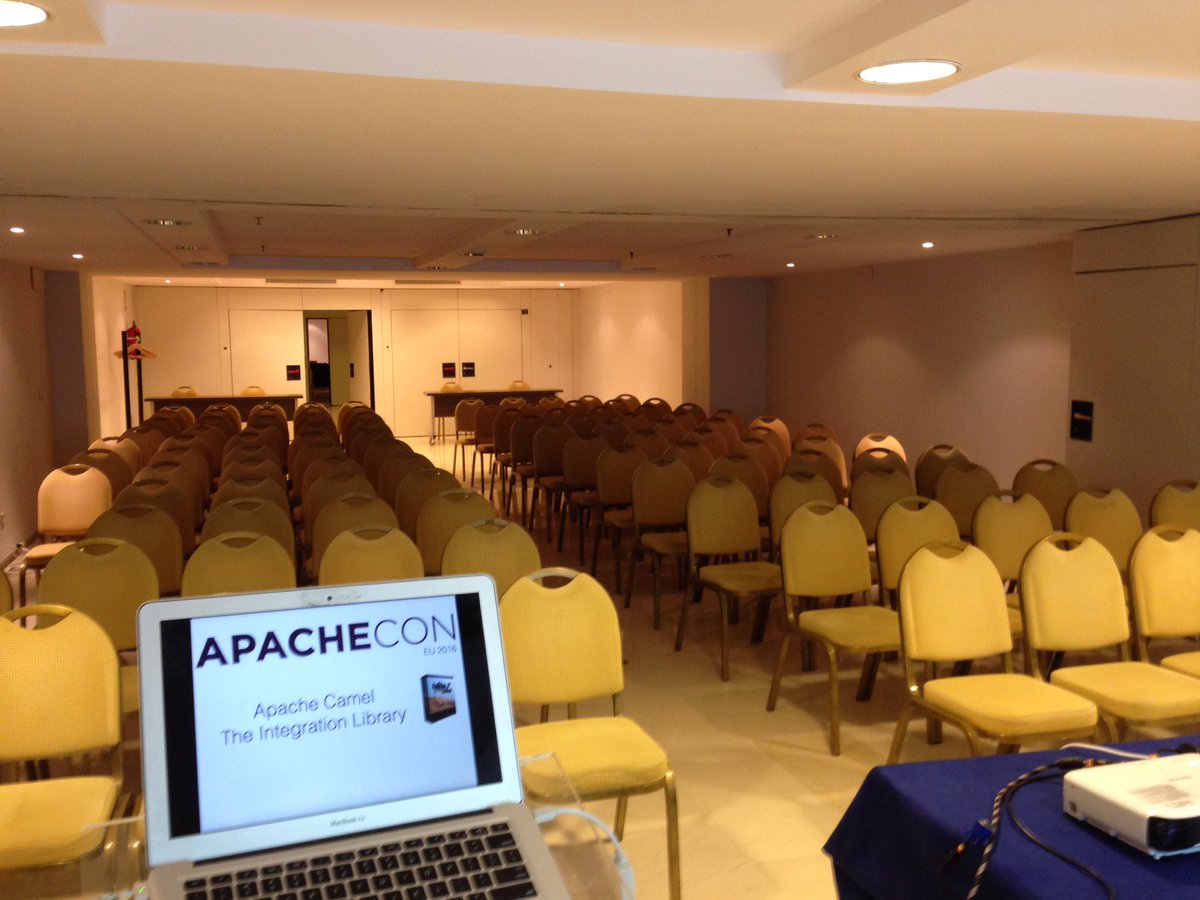 Spanish way of life with siesta - 10 minutes before my talk
However people turned up and the room was half full and about 1/3 already knew Camel, so I was a on a mission to spread the word about Apache Camel.

Thanks Bilgin for the photo of me during my presentation
You can find slides to my talk at
my slideshare account
.
The following speaker Dzmitry Pletnikau talked about how his company are using Camel since 2013 in the real world as a non Java shop. It was interesting to hear how much they can do with Camel XML and a ServiceMix container running in docker so developers dont need any Java installed locally and just drop/edit an XML file.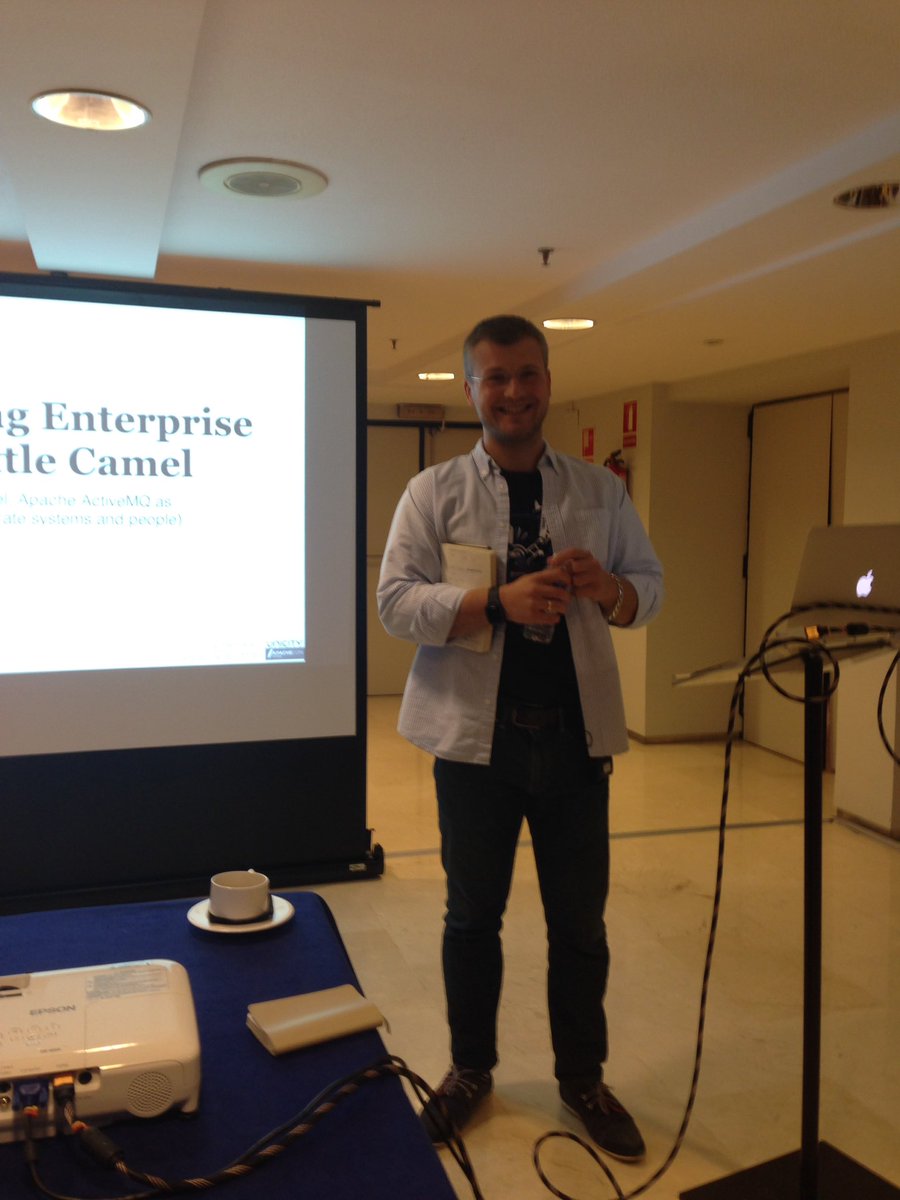 Dzmitry Pletnikau speaking about Camel
Then Colm from Talend talked about the Apache Syncope (identity management) project and how they have integrated with Apache Camel that adds a lot of power to what you can do.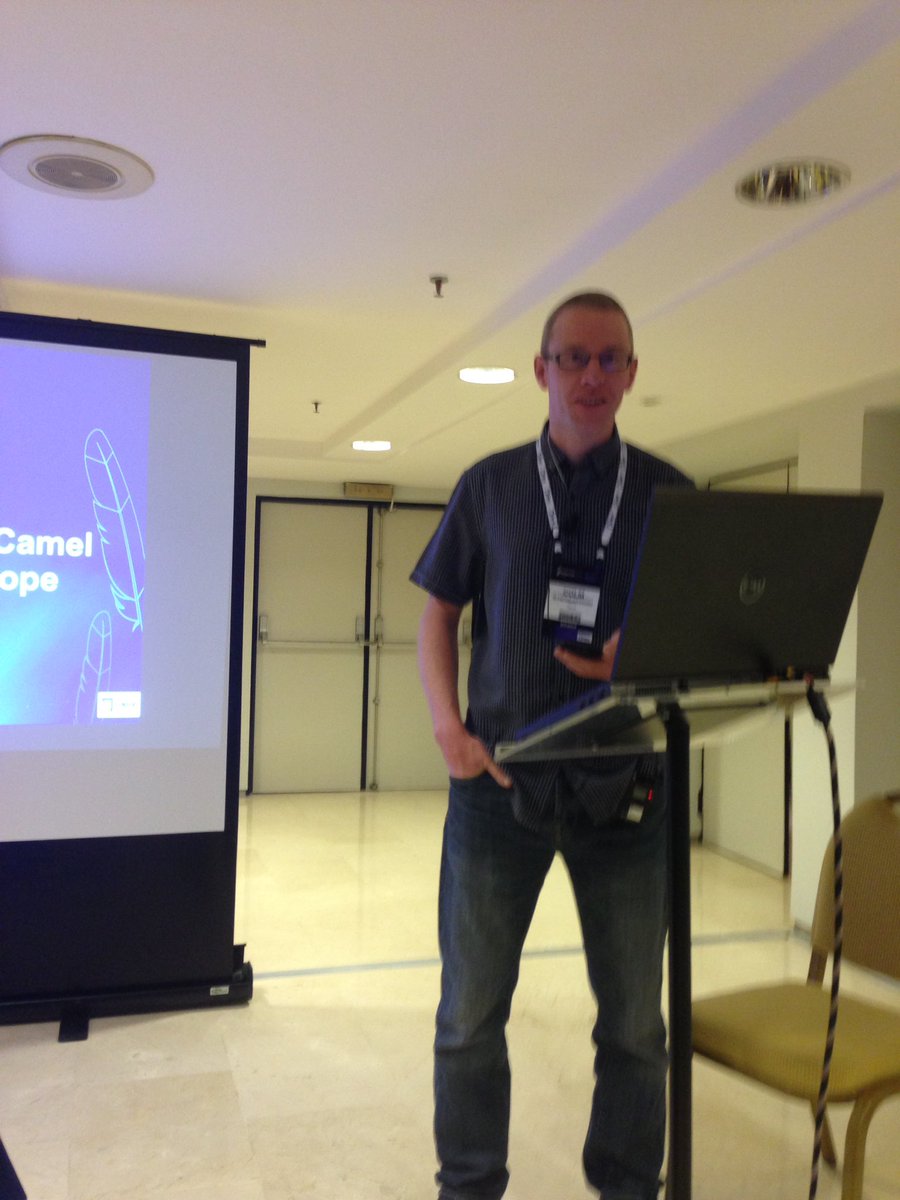 Colm about to start his presentation (sorry the photo is a little blurred)
The last Camel talk of the day was Bilgin Ibryam whom talked about cloud native Camel design patterns.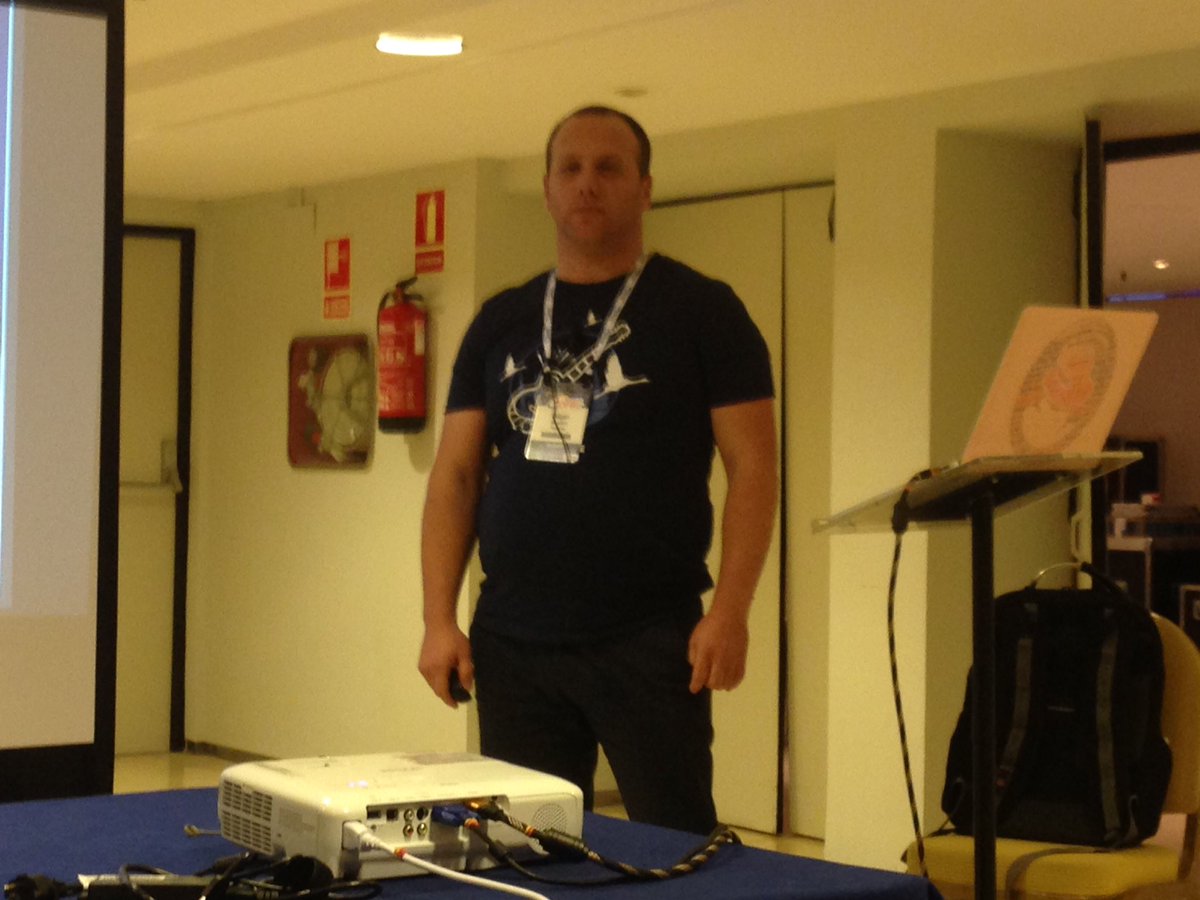 Bilgin about to start his presentation
Bilgin whom authored the awesome book
Camel Design Patterns
gave an excellent presentation where he talked about the implications and also new possibilities that the container world brings to the table. One of his slides had a great summary of integration patterns evolving.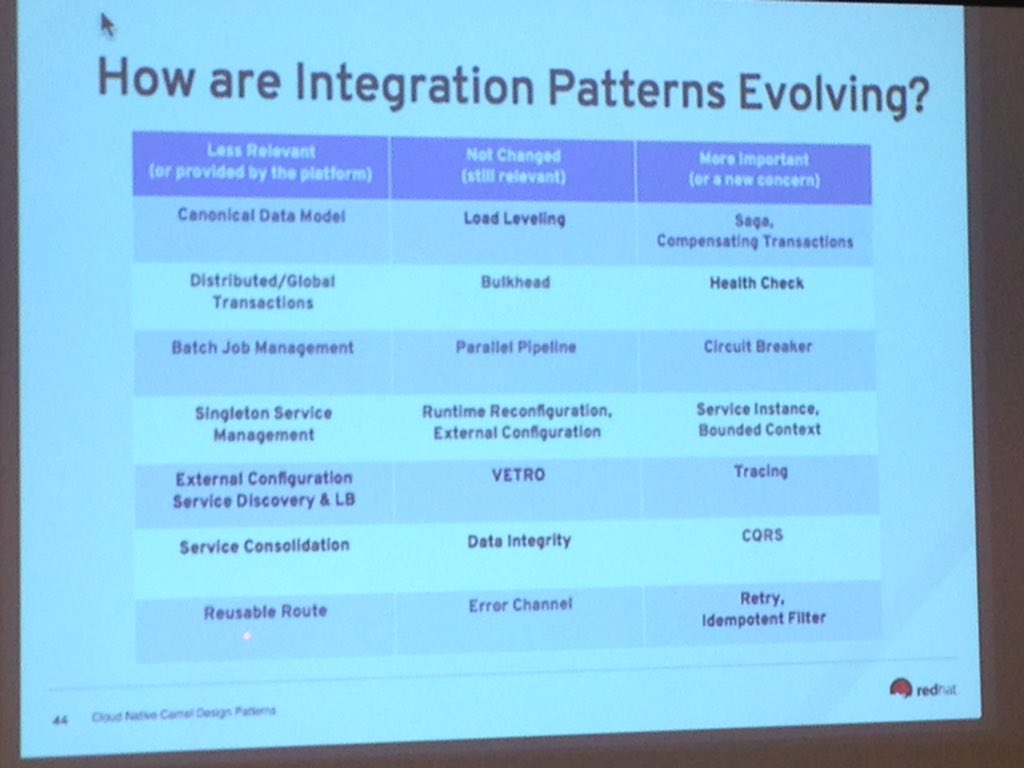 How are integration patterns evolving?
You can find the slides for Bilgins talk at
his slideshare account
.
In the evenings Bilgin, myself and Krzysztof had the pleasure of accompanying some of our Apache friends from Talend and go out for tapas and a few beers. The highlight was the first evening on Wednesday where we found an excellent tapas bar with great food. I took a photo but unfortunately it was blurry.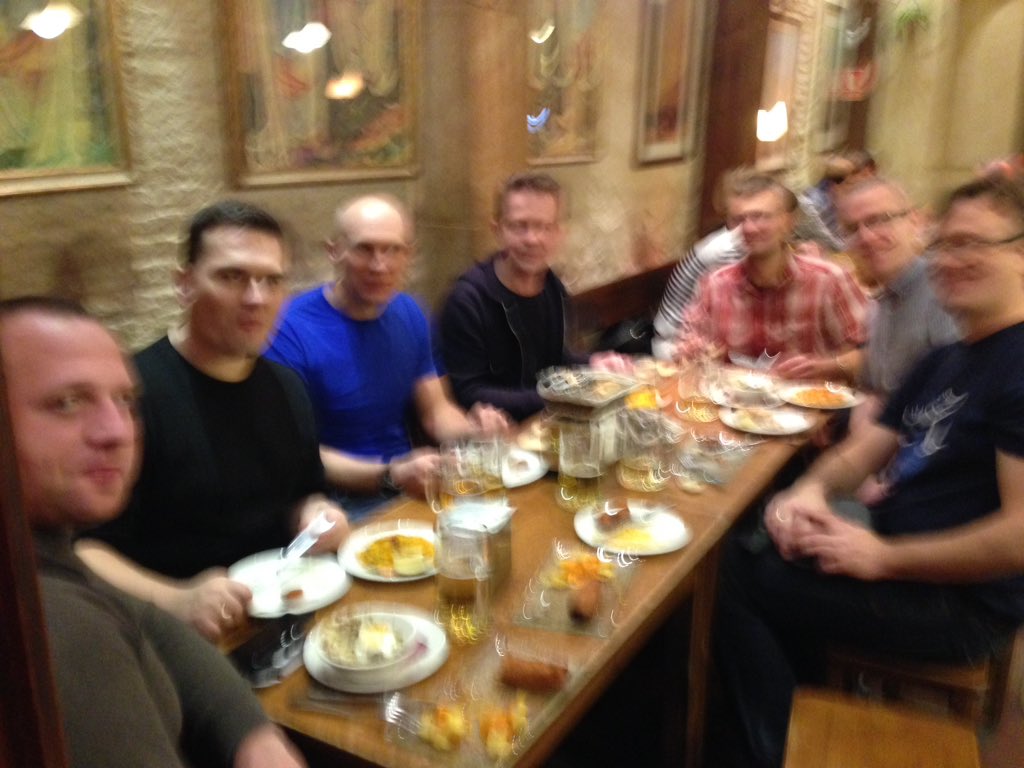 Blurry photo but the food was excellent
I had to return back on friday morning as I have been attending two birthday parties with my friends in Sweden. So I could not attend the last day where Yahoo Japan gave a talk about Apache Camel and how they are using Camel in their production systems in Japan. I had the pleasure of meeting the speakers the day before and talk about Camel and what they are doing.
I also had many other hallway talks with attendees and fellow speakers about Open Source, Apache, and Apache Camel. It was great meeting so many and hearing about what is happening.
ApacheCon EU 2016 was great, and the location in Sevilla is awesome. I hope to be back in 2017 if Camel still sparks interrest and my talk is accepted.